How Antarctica became the best place to find meteorites
The Antarctic explosion that rocked the meteorite world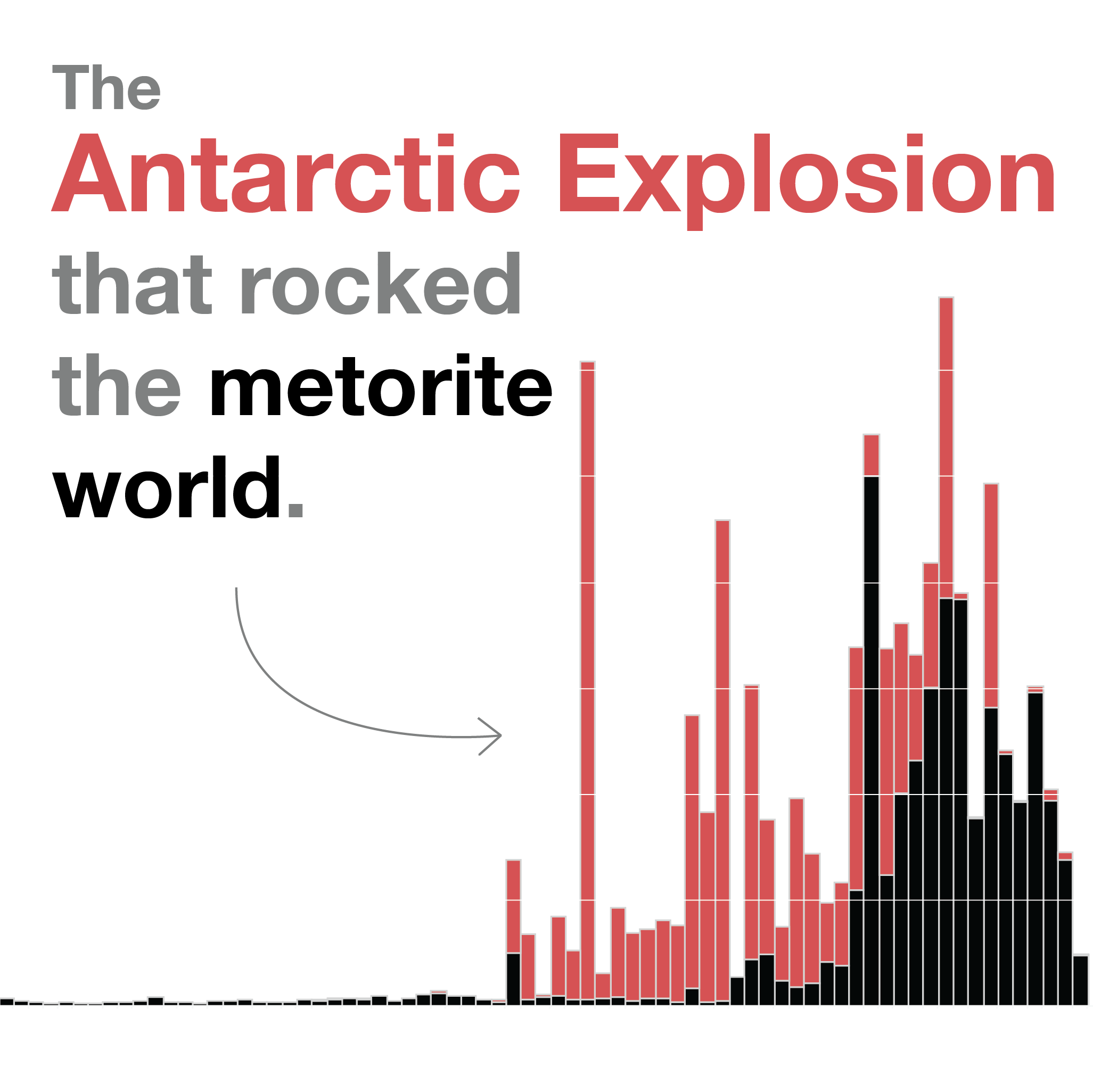 If you could really use a wish right now, this year's best meteor shower has officially begun. Until August 24th you can catch a shooting star from the Perseid Meteor Shower. But you know you don't need to look to the sky to find a meteor, right?
Our atmosphere incinerates most meteors as they fall from the sky, but some survive entry and crash-land, becoming meteorites.
Meteorites can be a rare find. Before the 1970's, a few dozen meteorites are recorded every year, mostly from USA, Australia, India, France, and Russia. Most countries are lucky to find one in a year.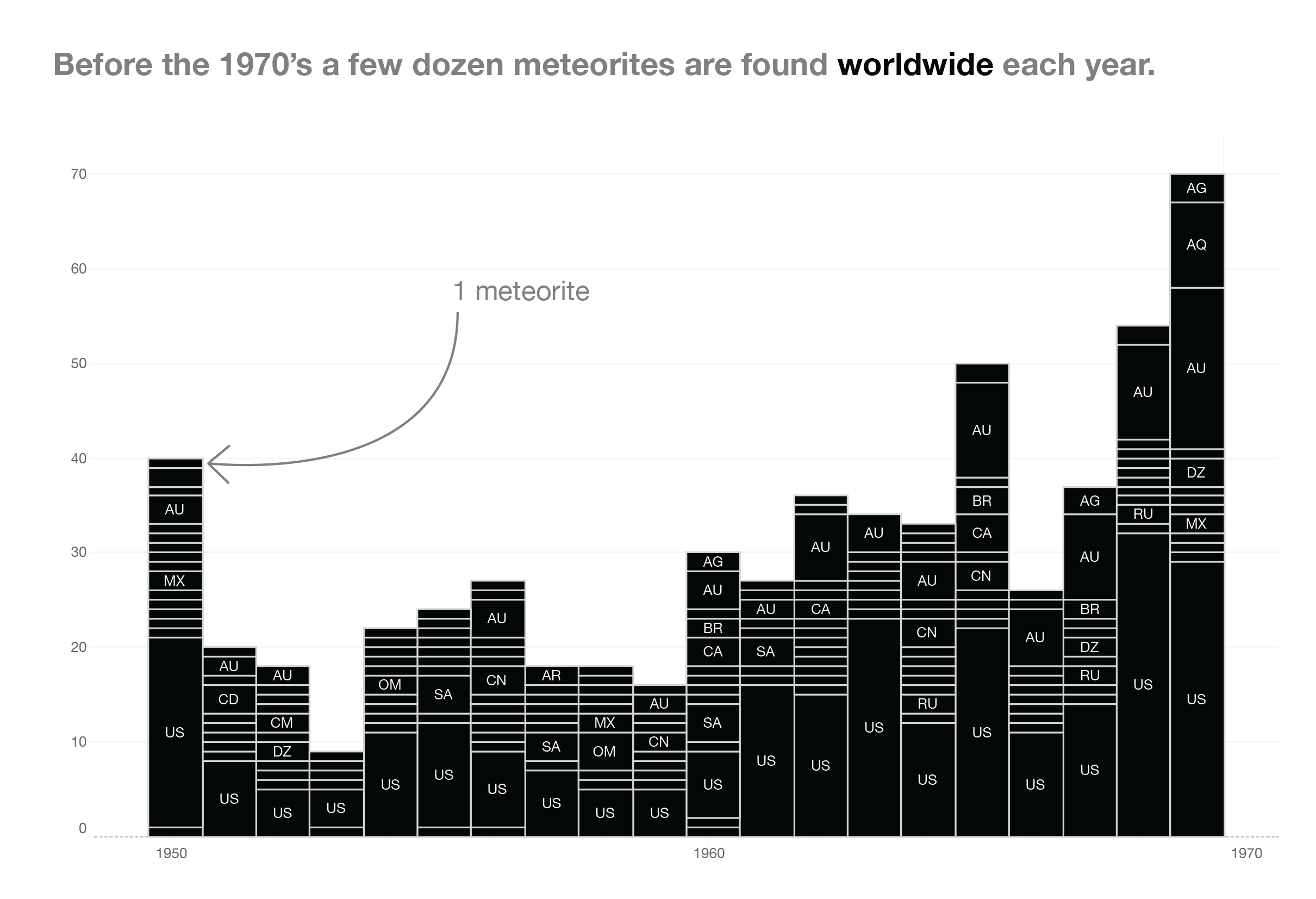 They're hard to find partly because they pretty much look like rocks.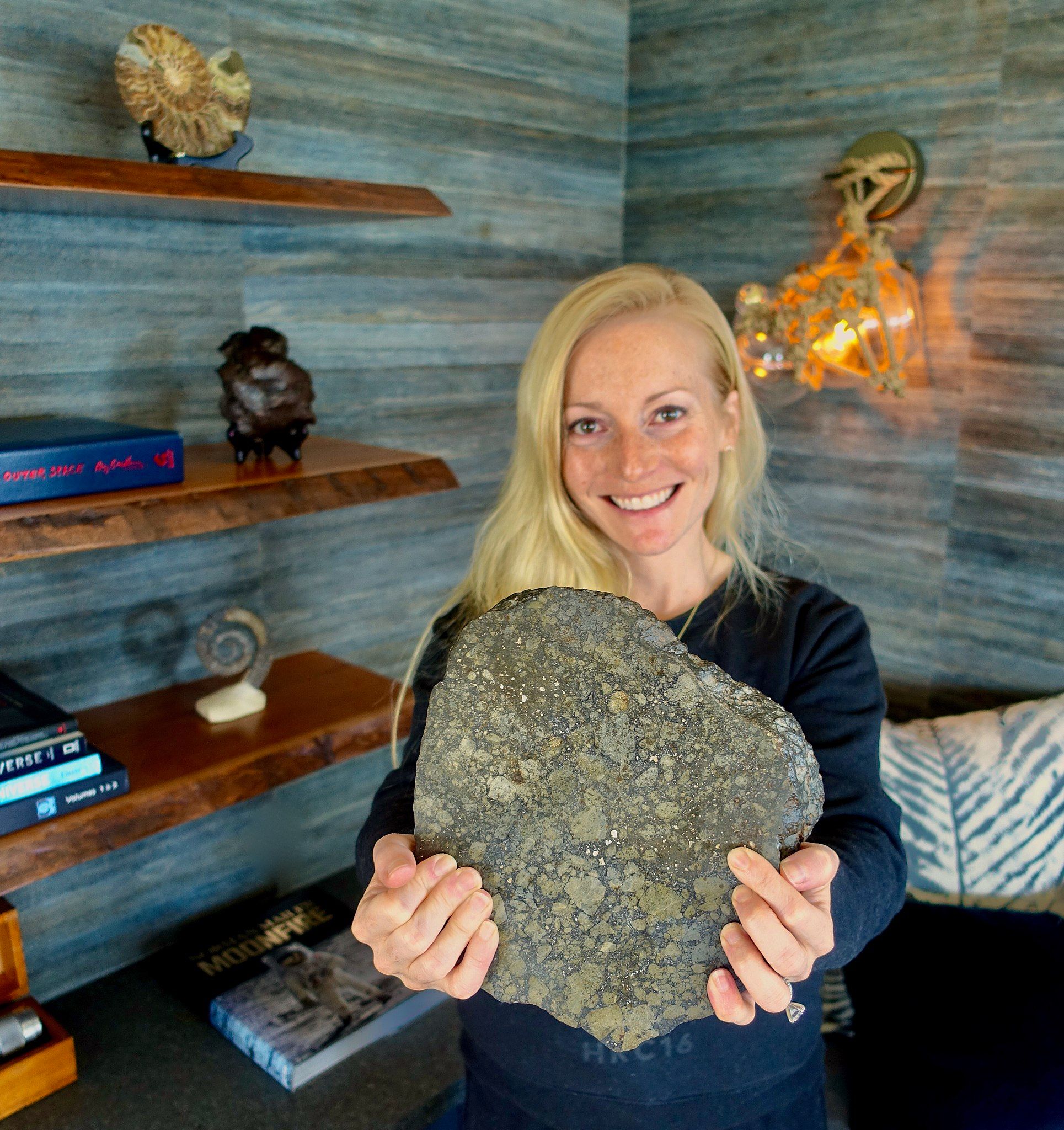 But in 1974, hundreds of meteorites are found in Antarctica – more in one continent than before.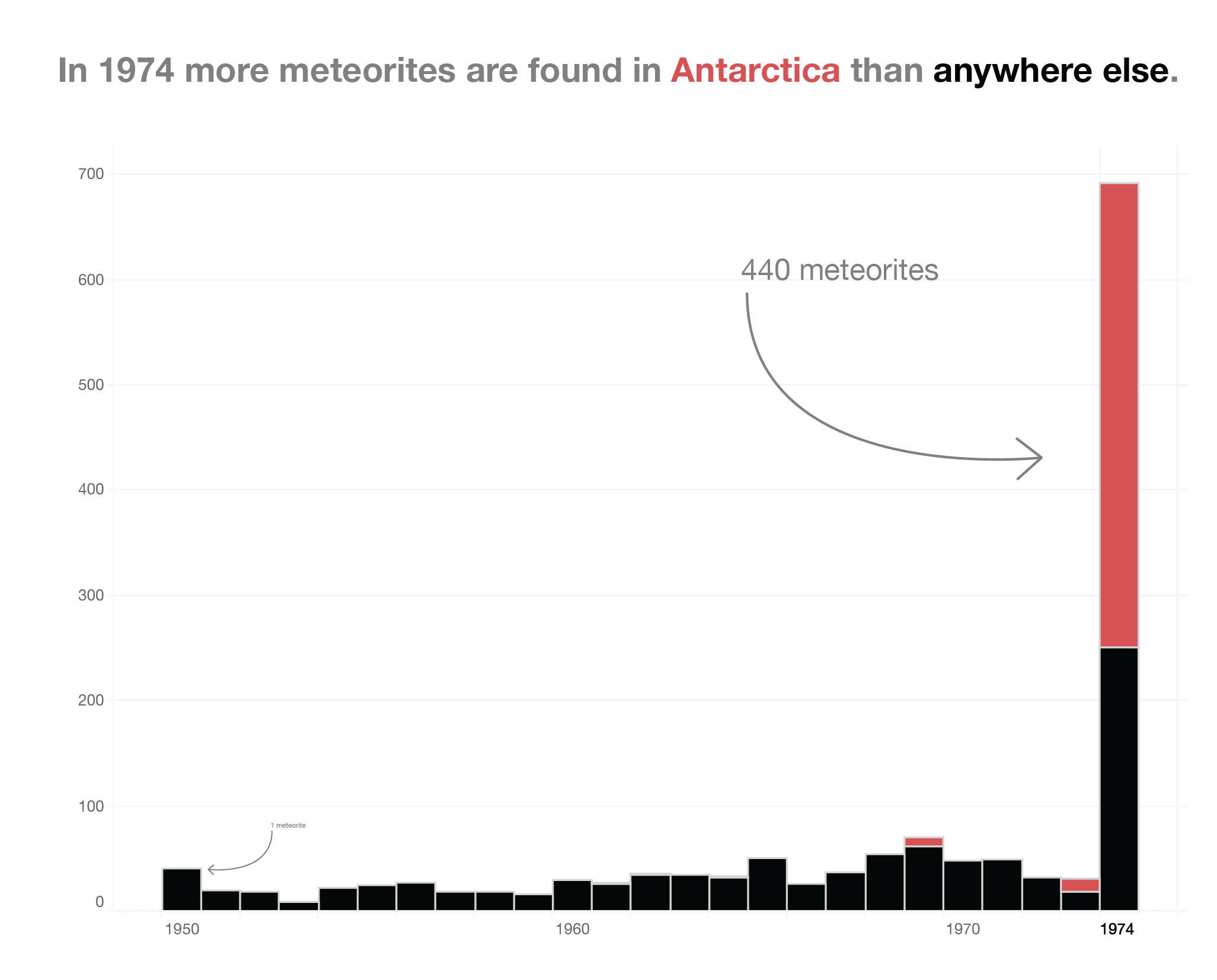 This antarctic explosion signals a tectonic shift that rocks the meteorite world.
Antarctica's Meteoric Rise
Antarctica is the last region on Earth to be discovered. It has no known indigenous population and humans aren't known to arrive on Antarctica until the 1820's.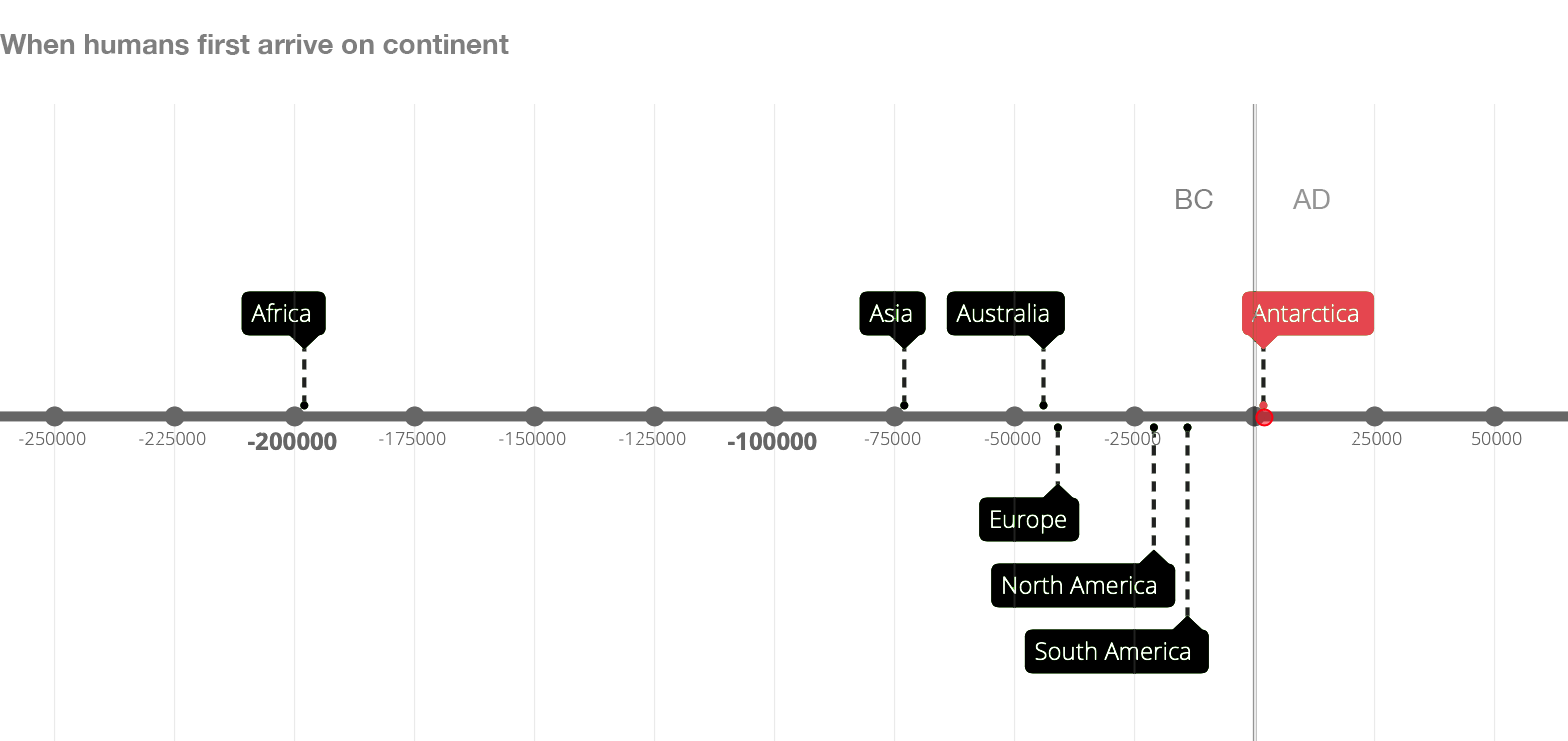 By the mid-1900's – less than 100 years ago – small teams of researchers are making regular, annual expeditions there. Antarctica has six months of daylight and six months of darkness, so most researchers visit for the summer and leave before the dark winter.
In the summer of 1969, a 10-man party of the 10th Japanese Antarctic Research Expedition (JARE-10) stumbles upon Antarctica's first ever meteorite discovery, near the Yamato Mountains. They find eight others nearby. While it's not unusal for a meteorite to break into pieces upon landfall, the majority of them are of different chemical classifications, suggesting they come from different meteors.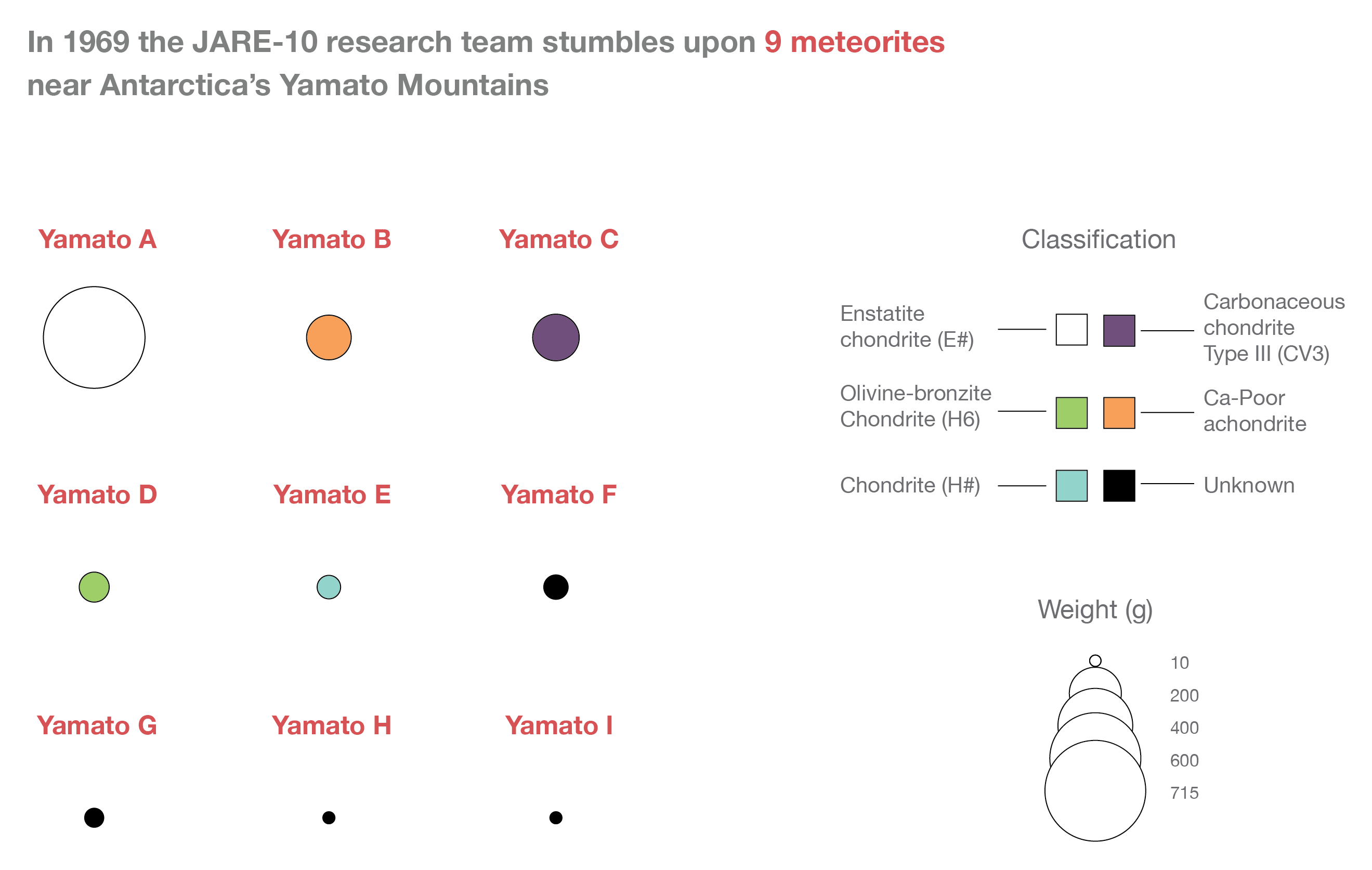 They're found on bare ice, making them easy to spot.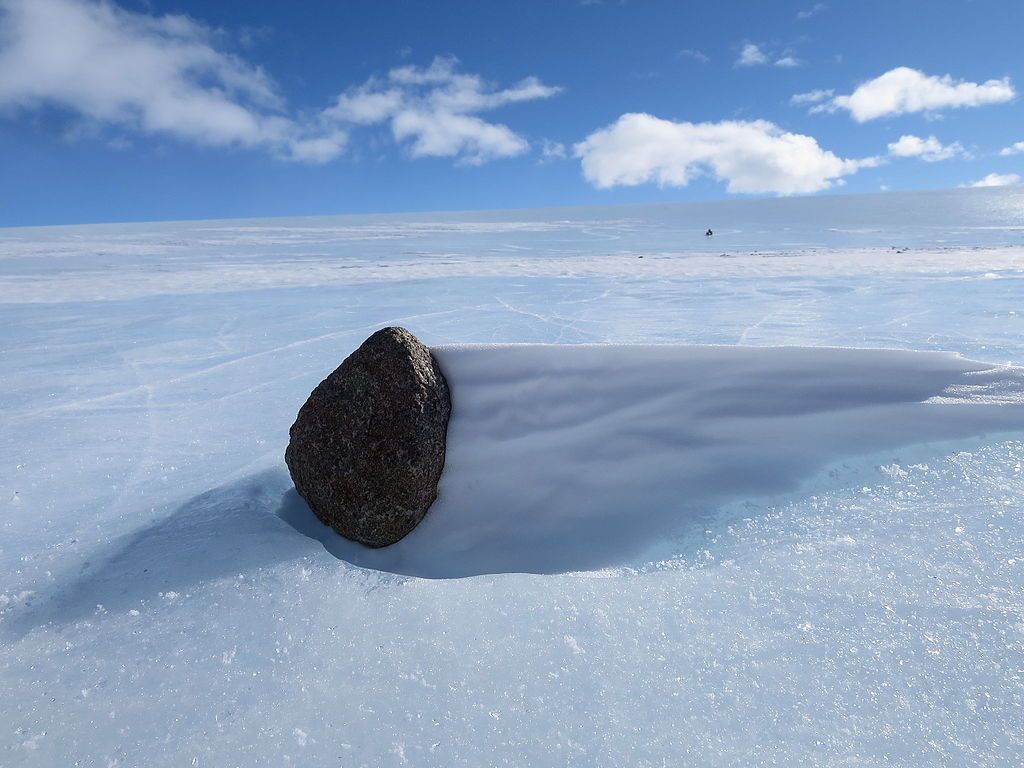 The meteorites are found unusually close to each other, all inside a 50 square kilometer area.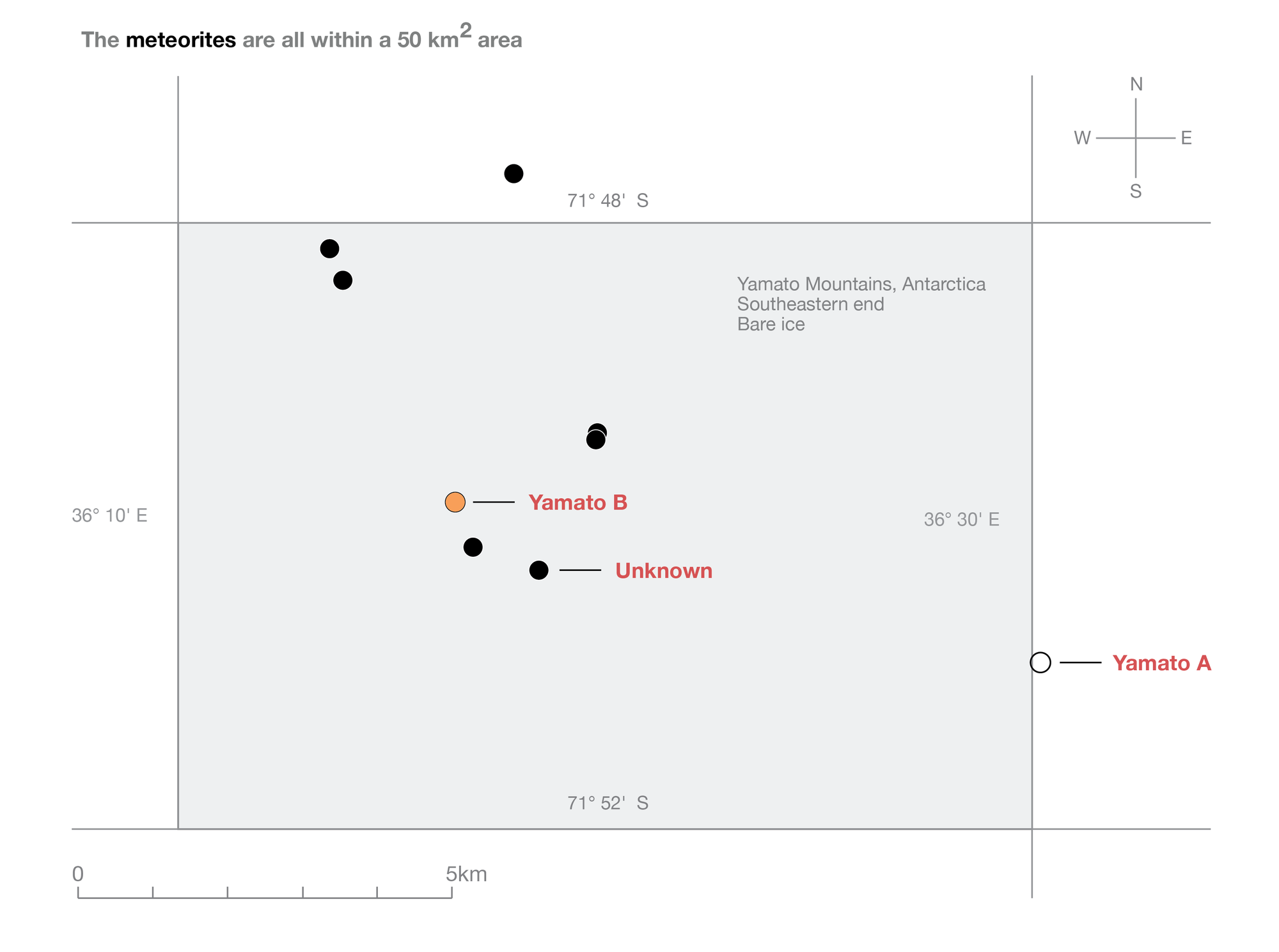 The JARE-10 team isn't there to search for meteorites, but meteorite finds are rare and researchers value them. Their chemical compositions tell us about the history of our solar system, so they let us explore space without looking to the sky.
The JARE-10 team takes the meteorites back with them. After they publish their findings, researchers take note. What are the odds that you can just happen upon a cache of meteorites without even looking? They predict more meteorites are waiting in Antarctica. The stone rush begins.
Soon, research teams from Japan, US, and Europe are finding more meteorites in Antarctica than anywhere else.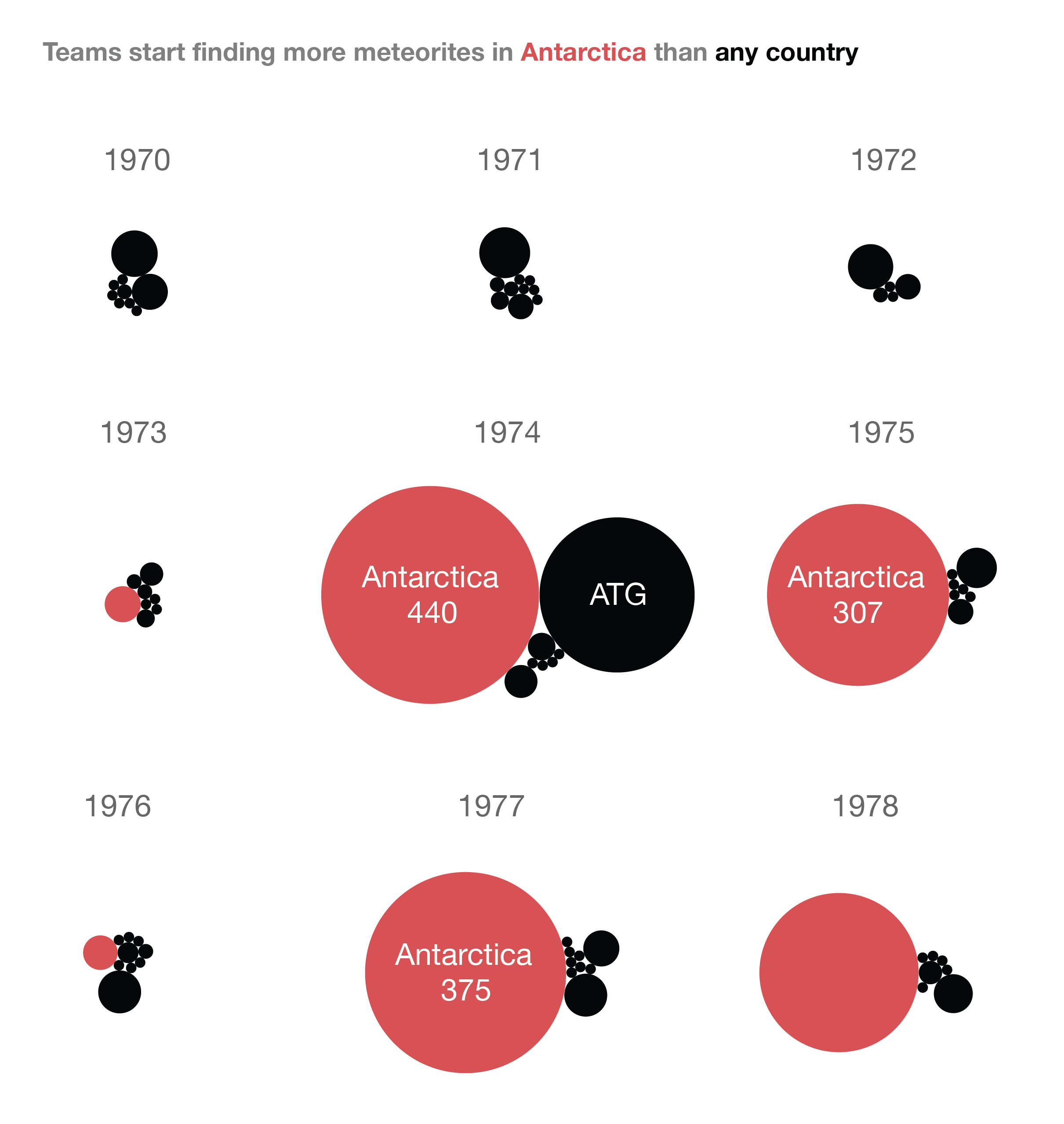 Then something unimaginable happens.
In 1979, an eight-man team of the 20th Japanese Antarctic Research Expedition (JARE-20) hits pay dirt near the Yamato Mountains. They find over 3,000 meteorites that summer.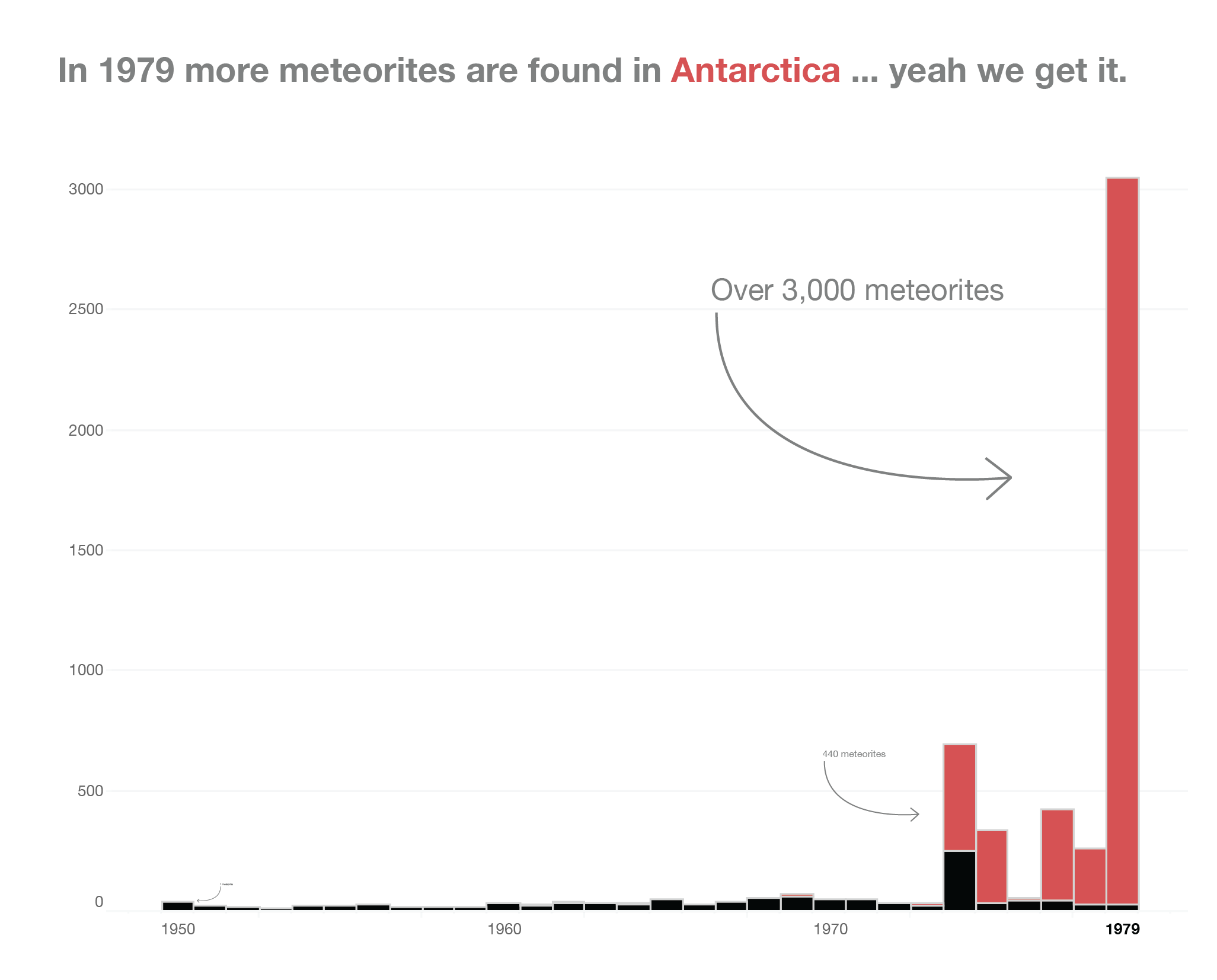 The total is the equivalent of all meteorites found the previous 100 years combined.

Nearly all of them are resting on bare ice waiting to be found.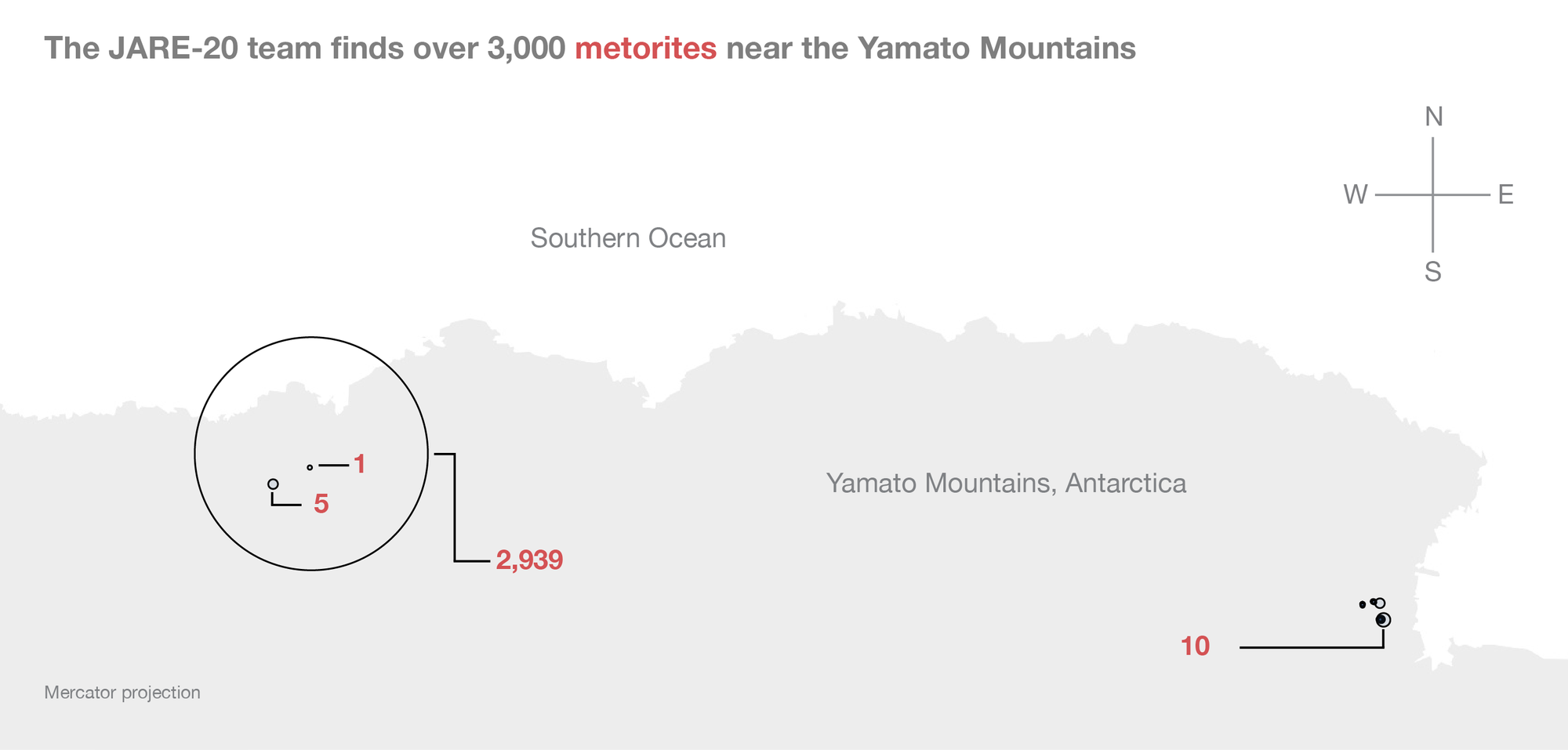 Their successful score contains over 90 different classifications. The top ten classifications are: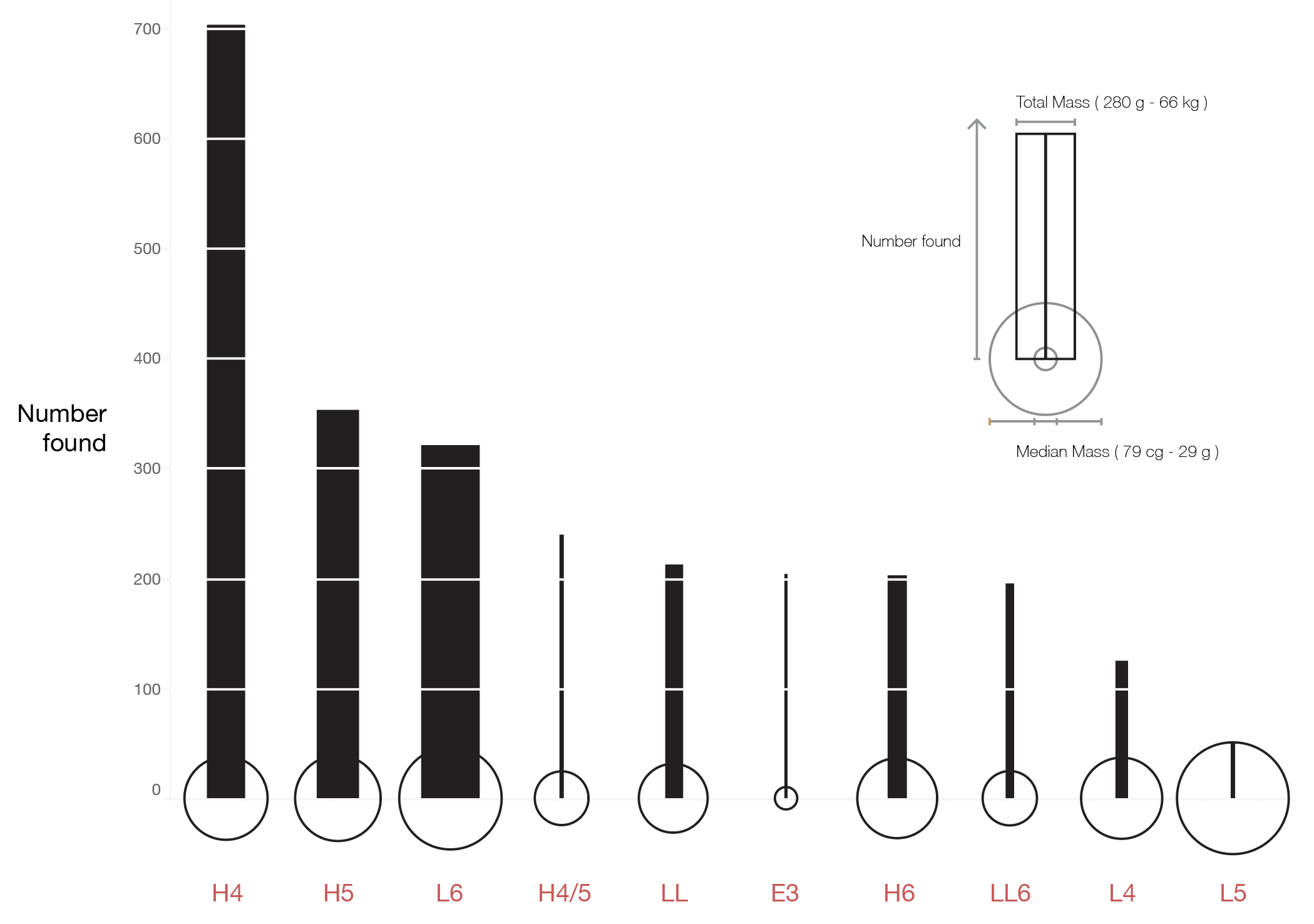 They only had a few months to find what they could before packing up for the winter, but the rest is in the books.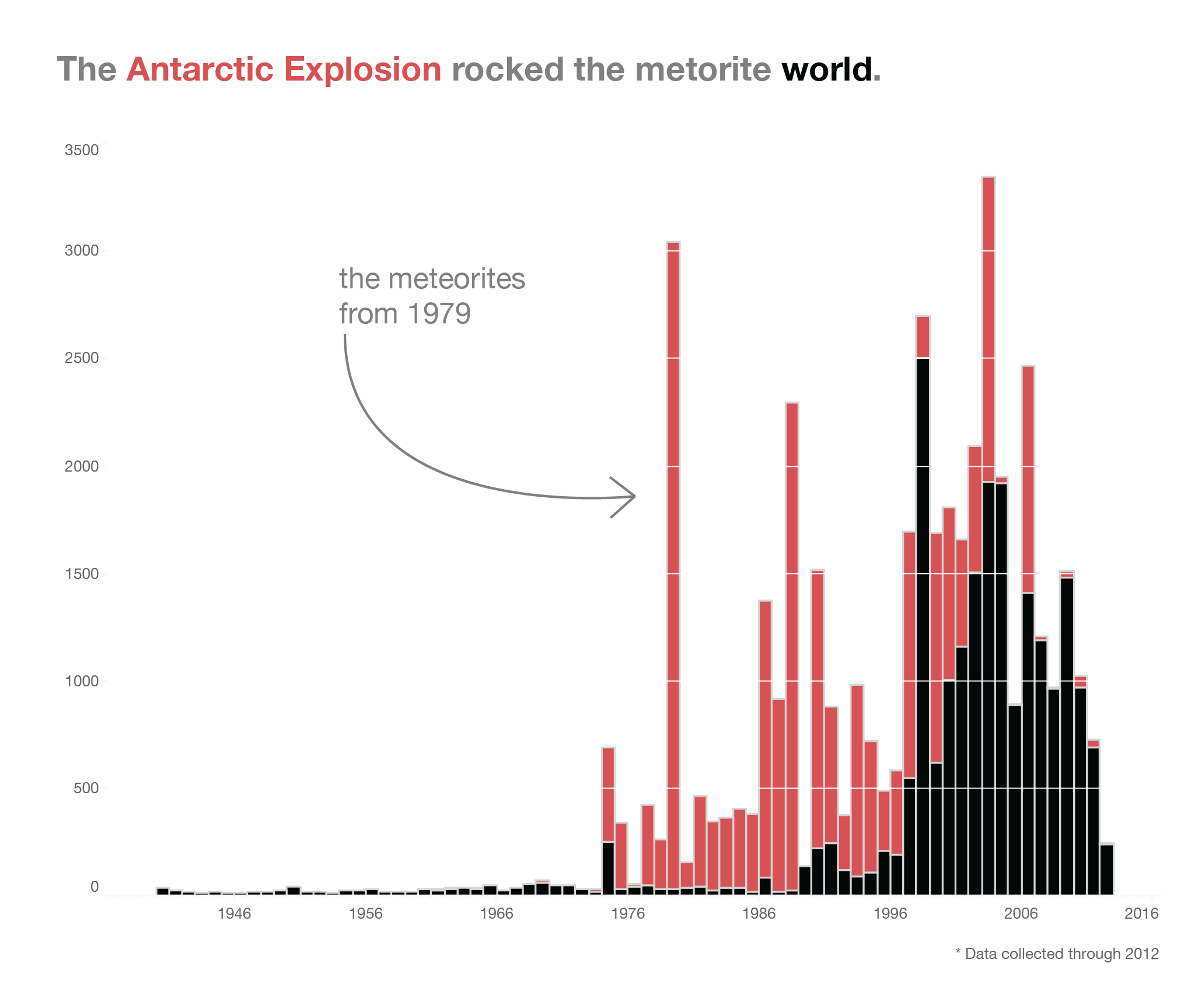 Today, more meteorites have been found in Antarctica than anywhere else.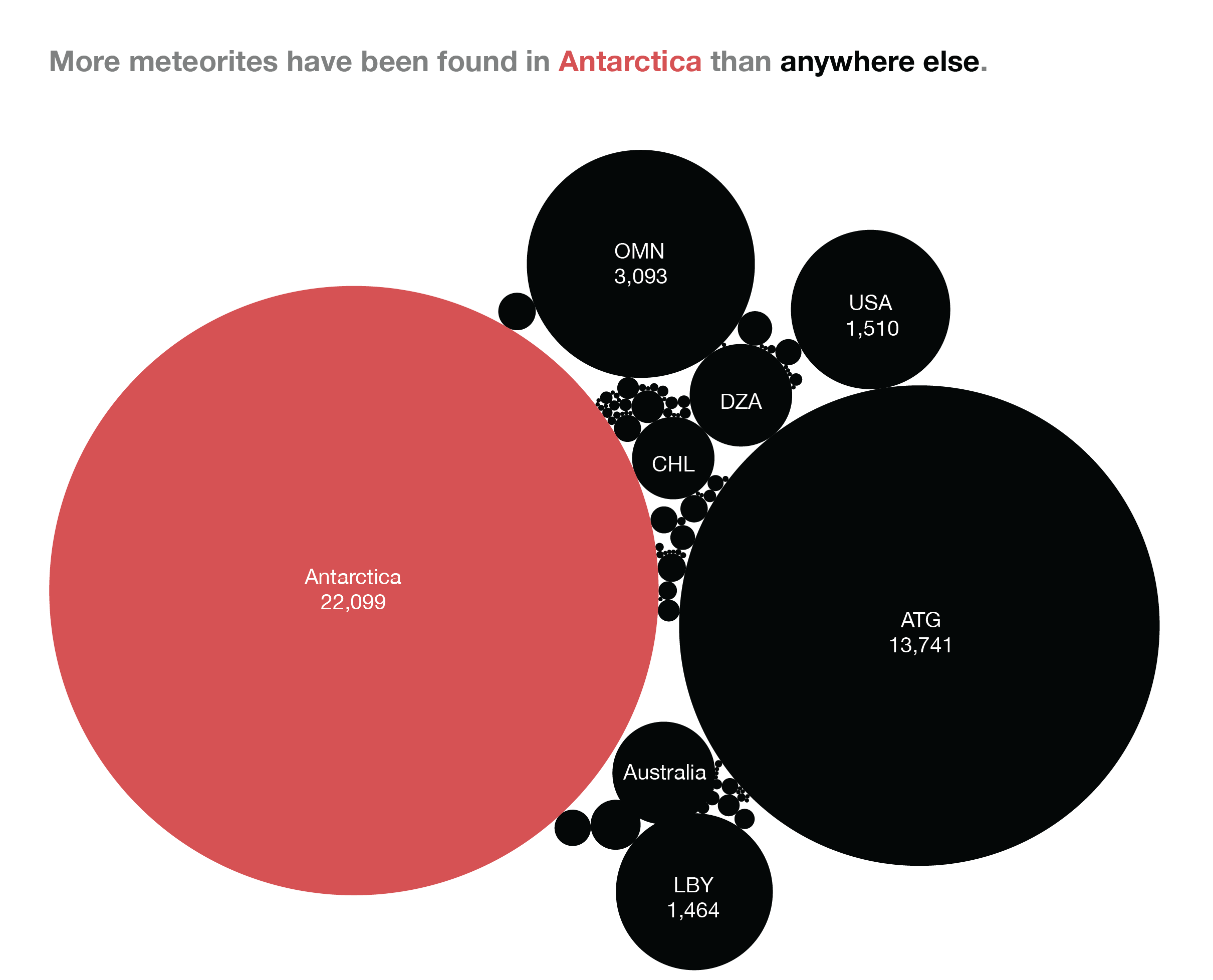 Antarctica has been largely untouched for millennia, it's got relatively low foot-traffic, and the penguins are only interested in pebbles, so your chances of picking up a meteorite there are pretty solid. You could catch the Southern Lights while you're at it, too. Just please don't litter.
But if you're like me and turn into a zombie in the cold, maybe there's something to the tundras in general. In the mid to late 1990's, another stone rush begins in northwest Africa after these NWA meteorites found in the desert begin to appear in the markets. You can see the impact of these meteorites on the late 1990's portion of the graph.
If you want to see a meteor but don't plan on taking a hike to the nearest tundra, you can try to catch the Perseids while they're still here. Or maybe give that funky looking rock on the ground a second look.
Liked this article?
Get more visual stories like this from STEM Lounge in your inbox.
---